SIERRA has made its mark as a promising and progressive enterprise by winning the prestigious "RASHTRIYA UDYOG RATAN AWARD 2014" for its excellent achievements in acquiring a large client base, many international projects and successful business creating well paid jobs.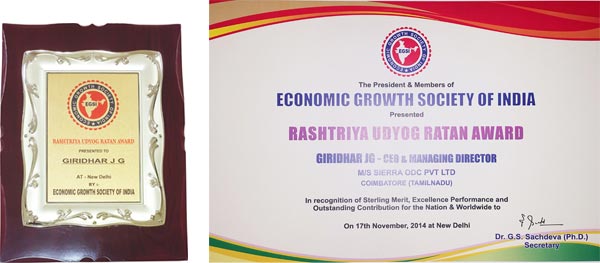 This award recognizes the esteemed individual & companies having extra achievement in their respective field viz. Health, Business, Banking and Finance, Education, Industries, Hotel and Tourism, Information Technology etc. The award was announced at the 34th National Level Seminar on "Individual Achievement for Economic & Social Development" by the "Economic Growth Society of India".
Economic Growth Society of India (EGSI) is a voluntary Organization Registered under the societies Act of 1860 that recognizes Individuals and Enterprises who excel in their field of work and honors them with prestigious awards. The award function was organized by the "Indian Society for Industry & Intellectual Development" and co-sponsored by Indian Organization for Business Research & Development (IOBRD) at the Constitution Club of India, New Delhi.