eFACiLiTY® – Enterprise Facility Management Software
SIERRA's flagship product eFACiLiTY® – Enterprise Facility Management Software has been conceptualized, developed, continuously improvised, and innovated to optimize the entire physical environment of major industry sectors like Infrastructure, Real Estate, Telecom, Healthcare, Hospitality, etc.
What It is
eFACiLiTY® – Enterprise Facility Management Software is a globally recognized CAFM/EAM/CMMS software that competes with world-leading products in the Facility Management space. eFACiLiTY® works together with your business to provide a complete perspective on facilities operation by bringing together space, people, assets, and maintenance into a single system. It is a modular web-based Facilities Management solution; integrated and compatible with all popular Smart Building Solutions and access control systems aptly suited for enterprise-level Facilities Management.
What It Does
eFACiLiTY® works well with smart buildings to reduce wastage of energy, space and maximizes the asset life to help decrease the facility's operational costs substantially. eFACiLiTY® addresses entire facility management operations (CAFM) like Asset Management, Property Management, Maintenance Management, Energy Dashboards, Visitor Management, Facility Booking, Space Management, Tenant Billing, Resource Management, Time and Attendance Management, Travel Request Management, and Mail Room Management requirements.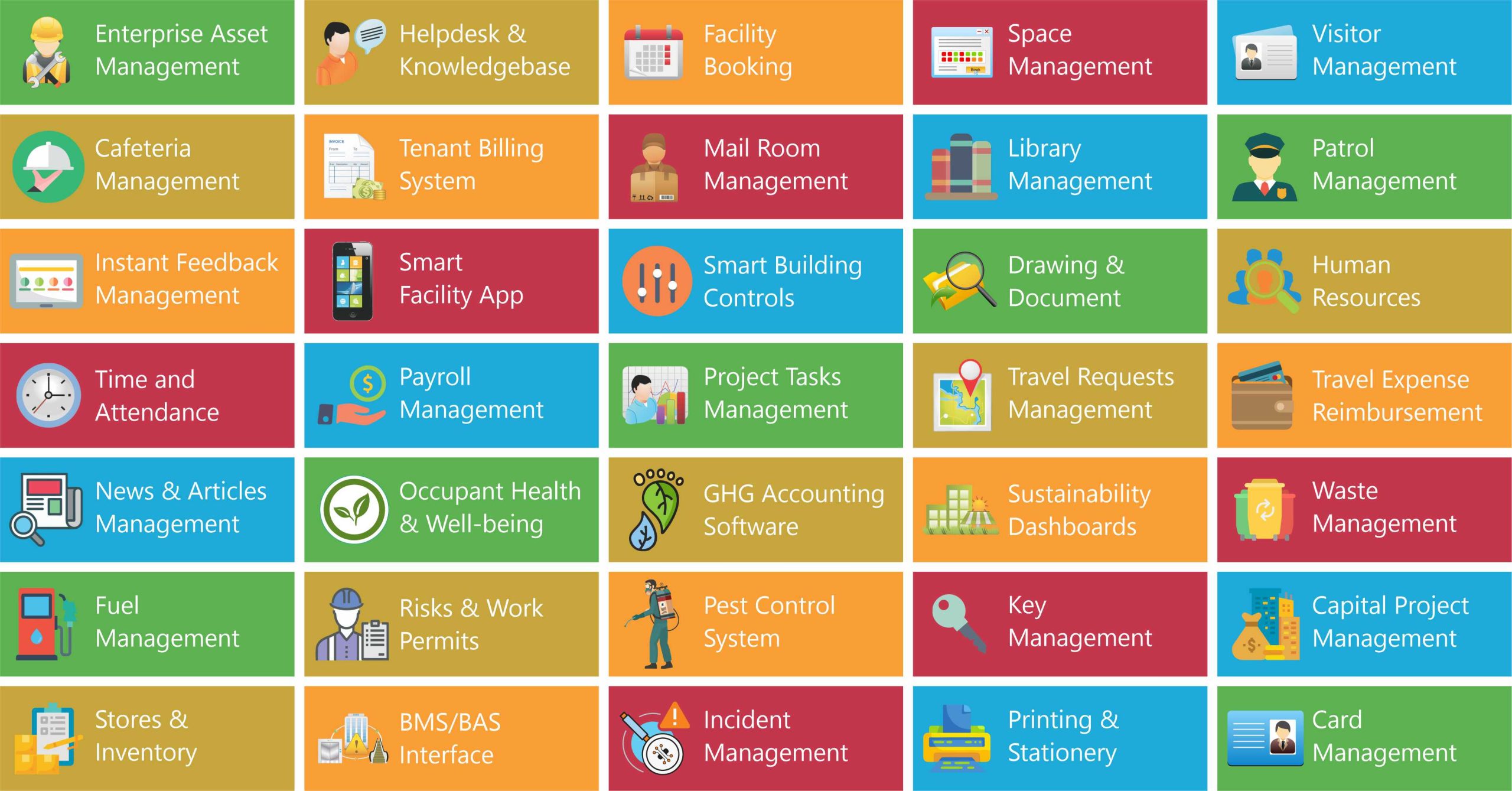 eFACiLiTY® is among the few pioneer software's that can seamlessly integrate with popular Building Management Systems (BMS) and Building Automation Systems (BAS) from Honeywell, Siemens, Schneider Electric, Tridium, Carrier Race, etc. to provide absolute automation of various building operation and maintenance functions. As a result, industries like Airports, Government Organizations, Data Centers, High Security Buildings, Business/IT Parks, Commercial Complexes, Residential Complexes, Hospitals, Hotels, Corporate Houses, Manufacturing Facilities and other businesses can establish a healthier, more productive and safer environment – at lesser cost and effort.
An optimal asset life cycle and maintenance management solution

Powerful and flexible helpdesk software

Visitor registration and tracking made simple and secure

Managing meeting room booking, approvals and billing seamlessly

Roster, attendance tracking and leave processing at ease

Space planning, occupancy mapping and analysis

Seamless integration with all major BMS/BAS systems

Automate tenant utilities billing

Track and manage all travel related requests

Software to support your mailroom management needs

Intuitive energy utilization dashboards for easy monitoring

Remote asset data capture, work order processing using mobile / PDA devices

Generate a plethora of custom reporting as per individual needs

Implement complex workflows specific to your processes
SIERRA was named "The Best SME IT Services Company" in India by the Indian Merchants' Chamber (IMC) for developing eFACiLiTY®, a product having an impressive list of clients across the globe.
eFACiLiTY® holds a respectable audience in countries like Australia, Saudi Arabia, UAE, Kuwait, Qatar, Oman, Malaysia, Singapore, India, Egypt, Cyprus, Mauritius, and Thailand. eFACiLiTY® has been successfully implemented to manage large buildings and infrastructures for clients across the globe. To know more about eFACiLiTY®, please visit  www.efacility.in