iNFHRA's FM Excellence Conference & Awards 2019 Winner
SIERRA is Winner of iNFHRA' s FM Excellence Conference & AWARDS 2018-2019 held at CHENNAI on 15th March 2019 in the category Ecological Sustainability. SIERRA made it to the top 5 which included Industry Giants like Wipro, Reliance, Mahindra, VVA Tech Wabag Ltd etc.,
iNFHRA is an industry body that epitomises the interests of industry and trade, interfaces with Government on policy issues and interacts with counterpart international partners to promote bilateral issues. iNFHRA aims at representing on all national and local bodies to be able to convey industry viewpoints, as also communicate and debate issues relating to public-private partnerships for economic development. The FM Excellence Awards are known to be the 'best of the best' within the facility management sphere. The awards are part of the Infrastructure, Facility, Human Resource and Realty Association (iNFHRA) which enables government and industry bodies to deliberate on policy issues and interact with international partners to promote the globalization and economic development of the Indian industry. SIERRA submitted nomination for 'iNFHRA FM Excellence Awards' under the nomination category 'Ecological Sustainability'.
Awards for 2018-2019 are supported by major IPC's CBRE South Asia, Cushman & Wakefield, Colliers International, Jones Lang LaSalle and Knight Frank India Pvt Ltd as Outreach partners.
eFACiLiTY® building being one of the World's top rated green buildings saves 64% energy costs by using 100% green power, saves 89% water while maintaining excellent indoor environmental quality by maintaining very low particulate matter levels, CO2 levels and TVOC levels. eFACiLiTY® building was rated as the world's 2nd highest ranking green building under the US Green Building Council's LEED v3 2009 rating system and India's top ranking green building under Indian Green Building Council's (IGBC) New Green Building rating system. (www.greenestbuilding.com)
The Award was received by Mr. David Raja P, Head – Global Client Services, at a function held at Accord Metropolitan Hotel, Chennai.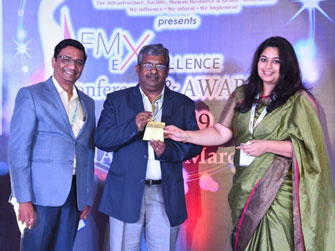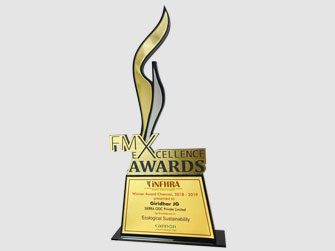 Hashtags
#iNFHRA, #iNFHRAWARDS, #FMExcellenceAWARDS, #EcologicalSustainability, #FMAwards, #FacilityManagement